To Begin
Shrimp Cocktail (7)

24

wild caught Patagonian shrimp, cocktail sauce, lemon

Beaver Creek Bruschetta (5)

17

herbed cheese, roasted tomato, microgreens, nut free basil pesto, balsamic glaze | add prosciutto

Crab Croquettes (2)

25

jumbo domestic lump crab croquettes, bearnaise sauce, preserved lemon, crispy capers

Duck Confit

22

cooked confit-style duck quarter, celery root puree, smoked fig puree

Soup du Jour

12

inquire

Porter French Onion Soup

16

caramelized onion, local porter ale, slow-simmered beef broth, pretzel crostini, smoked gouda

Burrata Salad

22

yellow tomato, nut free basil pesto, arugula, pretzel crostini, balsamic glaze

Caesar Salad

16

romaine, caesar dressing, shaved parmesan, pretzel croutons | add marinated anchovies

Pickled Beet Salad

20

mixed greens, pickled red and yellow beets, toasted pine nuts, goat cheese, roasted garlic vinaigrette
CHARTER STEAKHOUSE EXPERIENCE
Featuring Fitch Ranch Certified Black Angus Beef

Tenderloin Medallions | 6 oz* 48 / Pan Seared Ribeye | 18 oz* 65 / Pan Seared New York Strip | 12 oz* 55 / Pan Seared Bison New York Strip | 12 oz* 60
Select One of Each
Your steak selection includes a choice of steak sauce, specialty butter, vegetable and a starch.

Specialty Butters

red wine shallot / truffle sea salt / salted butter

House Steak Sauces

bearnaise / ancho bourbon / roasted tomato chimichurri

Vegetables

grilled asparagus/ braised red cabbage / seasonal choice

Starches

garlic herb mashers / roasted fingerlings / seasonal wild mushroom risotto
Steakhouse Extras
Butter Poached Maine Lobster | 4 oz

30

Crisp-Fried Soft-Shell Crab | 3 oz

16

Grilled Wild Caught Patagonian Shrimp (4)

15

Seasonal Wild Mushroom Medley | 3 oz

16
Charter Signature Entreés
Asparagus & Artichoke Ravioli

32

arugula, roasted tomato, chablis cream sauce, truffle moliterno cheese

Roasted Half Chicken

36

garlic herb mashers, grilled asparagus, preserved lemon chicken au jus

Fig-Glazed Colorado Lamb*

60

2 double-chops, wild mushroom risotto, braised red cabbage, red wine demi-glace

Sakura Pork Chop

53

grilled 12 oz chop, roasted fingerling potatoes, seasonal vegetable, apple bourbon demi-glace

Coulotte Steak & Yuca Wedges*

38

6 oz coulotte sirloin, yuca fries, bearnaise sauce

Fresh Seafood Selection of the Day

MP
*certain items may be served raw or undercooked based on your specification, or contain raw or undercooked ingredients. consuming raw or undercooked meats, poultry, shellfish, or eggs may increase your risk of foodborne illness, especially if you have certain medical conditions.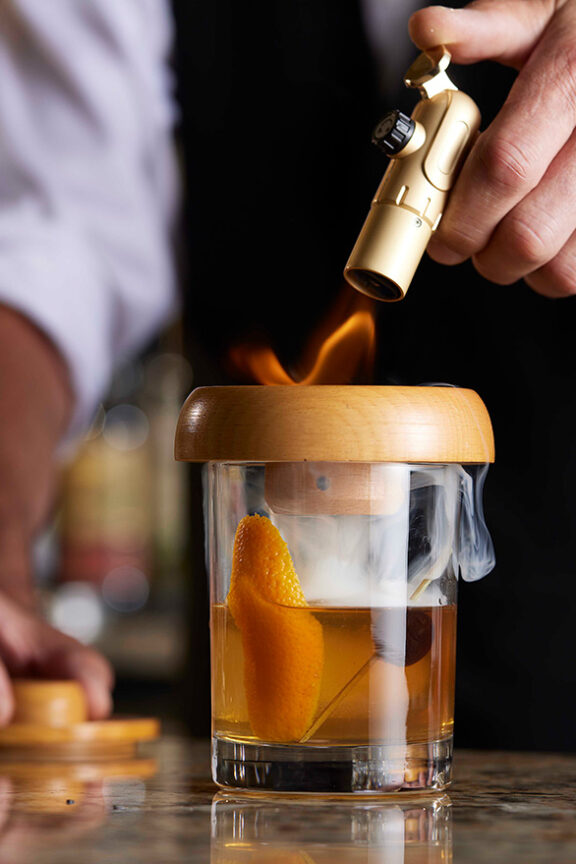 A Great Meal Deserves a Great Drink
A wide selection of beers, handcrafted cocktails, and wines curated by our in-house sommelier.